Vivo X60 series launch: Vivo X60, Vivo X60 Pro, Vivo X60 Pro Plus launch live updates: Watch live stream, expected price and more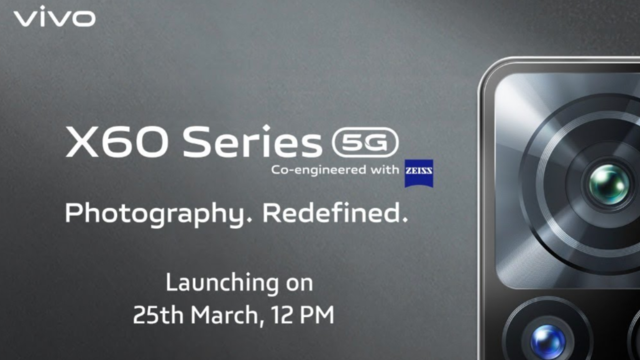 Vivo is set to launch its X60 series in India. This series is going to succeed the Vivo X50 series, which was launched in India last year in July. At today's event, the company is expected to launch three handsets — Vivo X60, Vivo X60 Pro and Vivo X60 Pro+. The starting price of the Vivo X60 series is rumoured to be under Rs 40,000. Earlier this week, the BBK-owned smartphone brand had launched the X60 and X60 Pro in Malaysia. We bring you all the updates from the India launch of the Vivo X60 series here:
Vivo X60 India launch confirmed for March 25
BBK-owned smartphone brand Vivo has officially announced the launch date of its upcoming flagship smartphone series — X60. The company has officially sent a save the date invite confirming that the launch of Vivo X60 series will take place on March 25.
Vivo X60 series phone appears on Amazon ahead of March 25 launch
Ahead of the scheduled launch, the upcoming series has appeared on Amazon India website. The e-tailer has created a separate microsite of the smartphone. "Vivo X60 series..Photography. Redefined. Coming soon," reads the Amazon page. It also suggests that the smartphone will be available in India via the e-tailer's iste.
Vivo X60 series price leaked ahead of India launch
Vivo has launched its latest X60 series of smartphones globally. The company will launch the same smartphone series in India. Vivo has scheduled a virtual launch event for 25 March, where it will launch the Vivo X60, X60 Pro and X60 Pro+ smartphones.
Vivo X60, Vivo X60 Pro and Vivo X60 Pro+ to launch at 12pm in India: How to watch the event live
Vivo is set to launch Vivo X60 series phones in India today. The company is expected to unveil two-three smartphones at the event — Vivo X60, Vivo X60 Pro and Vivo X60 Pro+. The series is set to succeed the X50 series that was launched in India in July 2020.
Watch Live Stream: